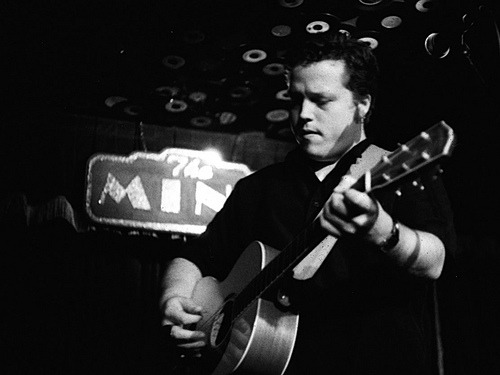 Back in 1997, when Radiohead released OK Computer, a friend of mine said something about it that I've never forgotten. This happened during a period when everybody who played three chords on a guitar, everybody in the music press, and everybody who wasn't into the Spice Girls was blowing a collectively toxic cloud of sunshine up Radiohead's arse. It was well-deserved. Ok Computer has gone on to become the reigning album work of art of the last ten years.
Anyway, I ran into this friend of mine at a show, circa 1997 when everyone's mind was in the process of being blown by Thom Yorke and Co., and he said of their magnum opus;
"It makes me believe in music again."
Since then, I've gone back to this phrase over and over, to test an approve what is noble, what is righteous, what is holy in rock and roll. Does it make me believe in music again? Obviously the answer is usually 'no it surely does not.'
We tend to trudge through pop music, by and large. We accept what we hear. The machine spits it out, and we listen. Some of it is OK. Most of it is well-intended garbage. Every now and then, something rises to the surface, like green foam on a municipal creek, that makes us believe again.
Not to get all Disney on you, but I've come across a song that will make you believe again; "Cigarettes and Wine" by Jason Isbell and the 400 Unit. I don't mean 'believe' in the Bono-sense, like "We can change the world! Everybody out of their seats! Get your phone out and text your congressman! Rise up!" Don't get me wrong, there is a place for that, but in the quiet, contemplative moments, we need songs, we need music that lights us up, that reconnects us to our brothers and sisters. We need songs like "Cigarettes and Wine."
First a word about Jason Isbell. He used to be in a group called Drive-By Truckers. This is a group that will make you believe. Explore. Now. Go.
Okay, you're back. Un-snap your Western shirt and go take a shower.
Okay, you're back again. You see what I mean. Drive-By Truckers is/was a group with, count 'em, three amazing singer-songwriters in Jason Isbell, Patterson Hood, and Mike Cooley. These guys are the real deal. They are musicians, and there is no back-up plan. There is no community college degree, no landscaping business back home, no wives with money. They sing, play guitars, grow beards, and drink Jack Daniels on stage. They are southern rock people with frightening talents.
Surprise surprise, they didn't all make it. You can guess why, although I don't know the official reason. Imagine what it's like to be in a band with three Stings, all drinking absurd amounts of whiskey every night, and living in bunk beds on a motor coach. Do the southern rock math. It couldn't have lasted. At least they didn't splinter in an air crash like you-know-who.
Jason Isbell left Drive-By Truckers, but he soldiers on. He released a serviceable solo album in 2007, Sirens Of The Ditch. It's not bad; very polished, lots of auto-tune on the vocals (don't ask me why anyone would want to clean up a voice as beautifully damaged as his). This year, with a new band, brings us to Jason Isbell and the 400 Unit.
This is a darker, more subdued record, but four songs in, oh hold onto your seats my friends. Get ready to believe again. "Cigarettes and Wine" is the stuff of legend. A countrified monster that at first glance is a harmless love-and-loss ballad, but on repeated listens just gets its hooks in you and won't release until you feel yourself singing the high harmony part at full voice in the car.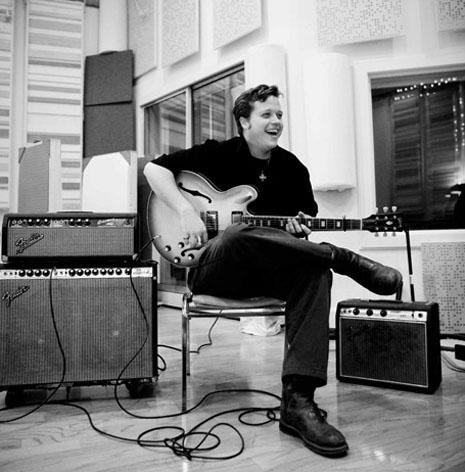 Let me say this, if you're one of those people who say 'I don't like country.' I feel you. Believe me. 'Country music' has been abused and roasted on a spit. Americans have betrayed a truly American art form by turning it into a pop monster that came out of Nashville, ate our brains and confused us with things like Faith Hill and the Dixie Chicks. This is one of the art-tragedies of our age and we stood around, watched and did nothing. When Johnny (Cash) died, a friend of mine gave me a black t-shirt that simply reads, in white text, 'Country music is dead.' You wouldn't believe how many perfect strangers stop me on the street to disagree. The heart of country music burns in the heart and conscience of American people. I'm not talking about white people and Ford F150's here, I'm talking about anyone who lives in America. Country music is OUR story. Everyone's. The Mexican-American's, the Lebanese-American's, the Korean-American's, the African-American's, etc. etc. and on and on. This is folk art, and we are the folks, if you know what I mean.
Listen to Marty Robbins. Listen Jim Ed Brown. Listen to Bob Wills. Listen to the Sundowners and the archival stuff on Bloodshot Records. Listen to Johnny Cash. Hell, even listen to Ryan Adams or Centro-Matic. I'm getting off the mark here. Listen to Jason Isbell! Listen to "Cigarettes and Wine." People, believe!
A final note. Don't give this a passing listen and go "oh, that's a country song, I'm not into that." Get yourself a good set of headphones. Not the stupid white iPod earbuds. Throw those in the trash now. Spend some money on something that goes over your ears and doesn't make you look like a silly middle school student with their first iPod Shuffle. You are an adult and you are serious about music, so get a nice pair of headphones. Do it now.
Okay, you're back. Wait 'til everyone in the house is asleep or watching Dancing With the Stars. Put on "Cigarettes and Wine." Absorb the story. Hear how the players hold back until it's their turn. Feel how the song inhales and exhales with the verses and chorus. Hear Jason's voice, subtle but accenting all the consonants clearly so you can get the full picture. Close your eyes and see the characters; Screwed-up people like you and me. It's country music, so you might also see The Boar's Nest from The Dukes of Hazzard. That's okay. Keep listening. Keep hoping. Keep believing.
Saw her in Roosevelt Spring
where time doesn't touch anything
She never did say she could sing
But I figured it was so
I needed some company then
Not sisters or children or men
That's a hell of a spot to be in
But she put me in tow
Money and liqueur and lust
have taken my heart and my trust
I could see ashes and dust
headed my way
She tended bar in the town
her alto settled me down
so i started hanging around
didn't need much to say
She smelled like cigarettes and wine
She kept me happy all the time
I know that ain't much of a wife
But it's the God's own truth
She lives down inside of me still
Rolled up like a twenty dollar bill
She left me alone with these pills
And the last of my youth
Wings on her shoulders and feet
The bar on Gethsemane Street
I took time to plan my retreat
and backed out the door
I must be attracted to those
Who've witnessed a man in the throes
of life that ain't grindstone to nose
but pedal to floor
She smelled like cigarettes and wine
She kept me happy all the time
I know that ain't much of a wife
But it's the god's own truth
She lives down inside of me still
Rolled up like a twenty dollar bill
She left me alone with these pills
And the last of my youth
Lost on the dry side of town
My memory slowing me down
She shook me and I came around
I came back to life
With nary a mother or dad
She showed me what I never had
A princess of leaves, she gets sad
'cause I won't take a wife
She smelled like cigarettes and wine
She kept me happy all the time
I know that ain't much of a wife
But it's the god's own truth
She lives down inside of me still
Rolled up like a twenty dollar bill
She left me alone with these pills
And my smoldering youth
She left me alone with these pills
And the last of my youth